Mission
NORA, National Open Research Analytics, is a national initiative to enable robust and open insights and analytics of Danish research. NORA is focused on national level insights, and thus NORA supplements rather than replaces existing institutional systems, offering deep and detailed insights at various levels inside the institution, and existing global databases and research intelligence systems, offering insights and advanced analytics at the global level.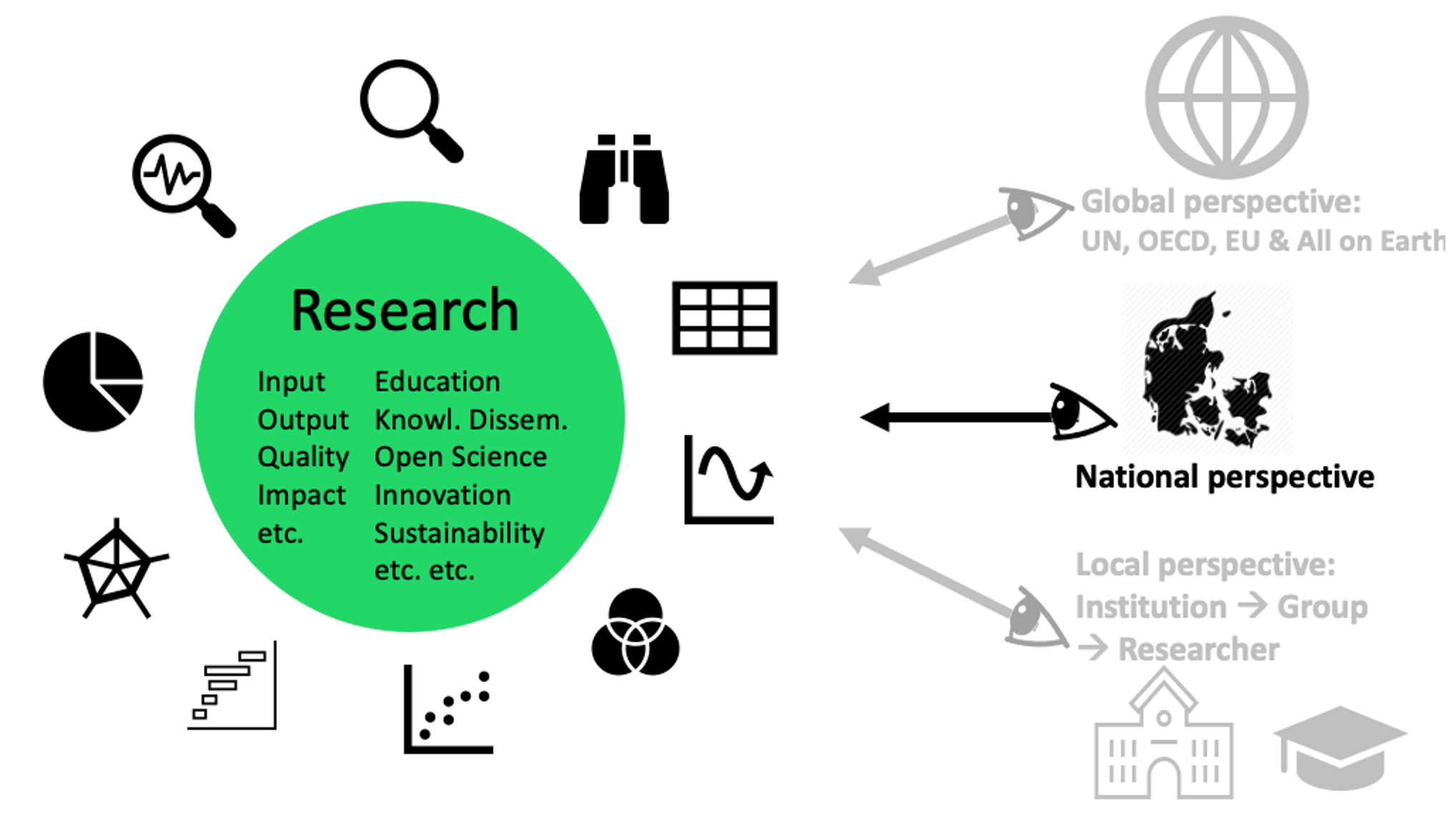 The NORA mission involves:
Building a data infrastructure collecting and aligning the best data available, from local, national and global sources
Building analytical and discovery platforms on top of these databases using high-quality and high-integrity tools and concepts
Keeping the infrastructure open and transparent with regard to data, software and concepts
Making the infrastructure and services available through the Research Portal Denmark.
NORA is financed by the Danish Ministry of Higher Education and Science, and the Danish Agency for Higher Education and Science is in the process of setting up a collaboration infrastructure involving a high-level Advisory Board and expert-level Working Groups to ensure optimal results and stakeholder involvement.
Vision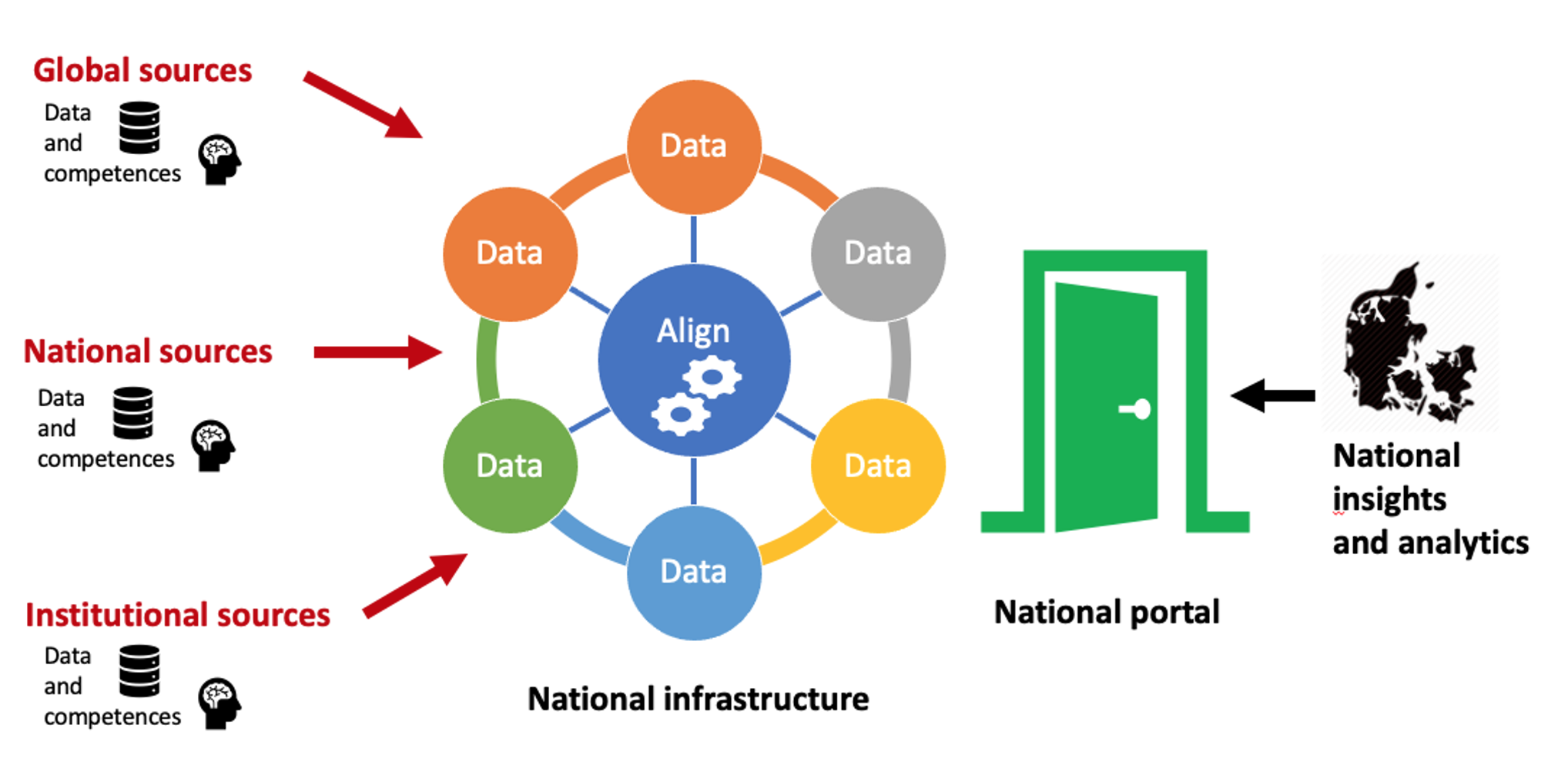 The NORA vision is to
Work with the best sources of data and expertise

at the global level, the national level as well as the local/institutional level

Import data sets and organise them in a national infrastructure, where:

The integrity of each data set and its curatorial universe is preserved
The data sets are linked and aligned to loosely couple records and search indices from sources at all levels – and from all data contributors at each level
Key terms of the data sets are enriched with their corresponding NORA standard terms in order to enable consistent national level search and analytics across the entire data aggregation
A standard RDF-version is produced in parallel, in accordance with the VIVO ontology.

Build a national portal offering overviews, insights, and analytics of Danish research:

Search facilities – simple (for the standard user) as well as advanced (for the expert user)
Predefined reports with in-depth analyses of topics of national interest
Interactive dashboards with highly customisable analyses and visualisations
Links from the analytical modules to the search facility in order to support further scrutiny of the underlying data.
Global sources
At the global level, there is a large, and growing, number of interesting datasets and related competence clusters:
Many are community-driven and linked to the infrastructures issuing persistent identifiers (PIDs) to networked objects and actors. Examples are Crossref (publications) and the associated initiatives for open citations (I4OC) and open abstracts (I4OA), as well as DataCite (datasets), ORCID (researchers), and ROR (organisations).
Amongst the other important community-driven initiatives are Wikidata, arXiv and the many other preprint sharing platforms it has inspired, and comprehensive disciplinary platforms such as PubMed.
Another important group of initiatives are the Open Access facilitating infrastructures such as Unpaywall, DOAJ, and Sherpa/Romeo.
Amongst the market-based commercial enterprises, Clarivate, Elsevier and Digital Science stand out with very comprehensive offerings.
Finally, a new type of comprehensive offering has become available in the form of The Lens, a flagship project of the 'independent non-profit social enterprise' Cambia, bringing innovation also to the business/cost recovery model.
NORA first steps wrt. global sources
Loading data pertaining to Denmark 2011 onwards from Clarivate, Elsevier and Digital Science – on a one-year pilot basis initially.

This will include all the PID-related contributions that these sources integrate in their data supply

Collaborating with the experts of these companies to make sure their data is exploited well in the context of Research Portal Denmark
Loading relevant Open Access data from Unpaywall, DOAJ, and Sherpa/RoMEO
National sources
At the national level, several data sets are of interest and importance:
From the Ministry of Higher Education and Science, the data behind the national research indicator, the Danish Open Access Indicator.
From the Ministry and its associated public research funders, data on Danish research grants.
From Universities Denmark, statistical data on many university aspects.
From Statistics Denmark, a wide array of statistical data that could be used to put research in the context of Danish society at large.
NORA first steps wrt. national sources
Loading data from the Danish Open Access Indicator.
Collaborating with the experts of the Ministry to ensure that Research Portal Denmark integrates all the important national data sets and is well aligned with the Ministry's data structures and needs.
Investigating how Danish research grants may be optimally reflected in the portal and underlying infrastructure – together with the Ministry and the public funders.
Institutional sources
At the institutional level, several data sets could be of interest and importance. Currently only one group of systems seem to have adopted national standardization.
The data of the institutional research databases (CRIS, RIMS) are thus of special interest and importance
NORA first steps wrt. institutional sources
Loading data 2011 onwards from the twenty or so local systems using the well-established Danish metadata exchange format for research databases (DDF-MXD).
Collaborating with the experts of the institutions to make sure their data is exploited well in the context of Research Portal Denmark